I don't think you can use 'Bucks' as an adjective, but if you could, I would say I am VERY Bucks! At least, my DNA is! I wasn't born in Buckinghamshire (England) and have never lived there, but my parents were born and raised there, and met and married there. Three of my grandparents were born in Bucks, as were six of my great grandparents, 13 of my 2x great grandparents, and at least 21 of my 3x great grandparents – that's ⅔ Bucks! (And most of the rest were born in neighbouring counties!)
When I first started researching my family history at the age of 10, my mum would take me and my sister to the Bucks Archives in the school holidays, and that's when I first learned about a wonderful document in their collection: the returns of the Buckinghamshire Posse Comitatus of 1798. Back then, I could only trace a few of my Bucks lines — my grandparents' surnames — but I recently revisited the posse comitatus armed with a long list of names to see how many of my ancestors I could find. This project uncovered some potential 'new' ancestors but also prompted me to re-examine some of my prior research.
What is the posse comitatus?
A transcription of the document published by the Buckinghamshire Record Society is available online as a free PDF download, and the extensive introduction by Ian F. W. Beckett (1985) is the best way to learn about the detailed history and contents of this document. However, here's my very potted overview:
In 1798, Britain was five years into a war with revolutionary France, and was facing increasing challenges to sufficiently staff both the cavalries and the domestic militias who were deployed to maintain peace and order at home. By 1797 there were calls throughout the country to raise a 'posse comitatus' ('force of the county') — a group of private citizens who could defend their county from lawlessness.
In February of 1798, instructions were issued to Bucks bailiffs, constables and other keepers of the peace to take a register of all able-bodied men between the ages of 15 and 60 who were not already serving with the military and also to provide data on the numbers of wagons, carts, horses and mills. Clergymen were excluded from the survey but were enlisted to assist with the returns (completed surveys), which were due back to the Sheriff within a month. Quakers were also to be excluded, due to their dedication to pacifism.
Although many other English and Welsh counties also took registers for a posse comitatus, and a few partial records have survived (see Appendix 1 in the PDF), Bucks is the only county to preserve the returns in full. Original copies are now held at the British Library and Buckinghamshire Archives.
What's its value for genealogists?
Though created as a military record, the beauty of this resource for family historians is that more than 23,000 individual names were recorded with occupation and other social information. The result is 'the nearest available to an occupational census of the county as a whole until the official census returns of 1841.'
The men listed in the p.c. (I'll call it that from now on to be concise) were born between about 1737-1783. For me, this takes me back to my 4x and 5x great grandfathers, of whom dozens were born in Buckinghamshire, and their brothers and cousins would be included as well. Ages are not included, nor any stated relationships, but if two men lived in the same place, with the same occupation and the same name you may well see one listed as 'Senior' and one 'Junior'.
The transcription provides alphabetical indexes of places and surnames, and the PDF is searchable, so it's quite easy to find specific places and people. For people researching a particular town or village, the register provides a fantastic sense of place.
However, even if you have no Bucks ancestors that you know of, it's a fascinating document for any family or social historian, as it provides a snapshot of society on the brink of industrialisation. Though the vast majority of men were farmers or farm employees, and many others worked in ancient trades such as blacksmithing and carpentry, towns could also support teachers, transport workers, wine merchants, tea dealers, watchmakers, and even dance instructors. Apprentices are noted – presumably since they were tied to their employers. Scanning the pages, you'll find many long-obsolete but evocative occupations, such as a ratcatcher, a cake man, a perukemaker, a sieve bottomer, 35 higlers, and a pig poker.
The register also notes the religion of non-Anglicans — Jews and Protestant 'dissenters', some of whom would not have been willing or perhaps permitted to serve in the military. Although quakers were officially exempt, about 40 were mistakenly listed.
Physical and mental health problems are also recorded. The proportion of men with missing eyes, limbs and fingers, or who were lame, infirm or 'subject to fits', highlights the danger of their work as well as the lack of medicine and surgical interventions available to manage injuries and chronic diseases. Other men are recorded as 'insane', 'idiot', or 'nervous'. Between 750-900 men in total were considered unfit to fight. Hopefully that included William Weaver in St Leonards (one of my ancestral villages); one of two 'quack doctors' in the county (according to himself or others?), William was noted to be 'lame dead'!!
Of course, this is far from a complete census. Boys and elderly men were excluded (we have only a few exceptions included under the age of 15 or over 60, such as John Barnett, 'Now in his 78th Year, but desirous of being enrolled as a Man able and willing to serve'), along with soldiers and sailers, quakers and clergymen. Women, who drove cottage industries, including the county's leading trade — lace making — and straw plaiting, only feature as owners of horses and carts. There were 55,350 of them in Bucks in 1801.
However, I'm really spoiled to have this additional resource for so many of my ancestors. Unlike baptisms, marriages and burials, which are mere milestones, the posse comitatus shows my ancestors in the real act of living in a place and time, among their family, neighbours and friends. I can imagine them literally standing up to be counted.
My own Bucks posse
This article isn't intended to be a definitive guide to this record or how to use it. However, to give you a taste of what is possible, here are some of the things I've learned from the document about my own ancestors — my Bucks posse!
Occupations
The majority of my Bucks ancestors were agricultural labourers in the Victorian censuses, and I assumed that would also have been the case with previous generations. Although some 18th century baptismal records include the father's occupation, most do not, and we may never know what jobs our ancestors did. However, the p.c. confirmed to me that many of my ancestors were indeed labourers — the largest and poorest sector of rural society — such as Thomas Crockett in Monks Risborough (5x), Joseph Osborn in St Leonard (5x), and Joseph Munday Snr and Jnr in Wendover (5x & 4x).
Another large segment of working men — 'Servants' — would also have primarily been farm workers, like William Wyatt in Ellesborough (4x), who would have been about 17-18 years of age. The distinction made between labourers and servants was significant: Farm servants, primarily young and unmarried, were hired for long-term contracts. A large portion of their earnings were paid in kind; accomodation was usually provided on the farm and meals were eaten in the farmhouse. Labourers, on the other hand, were typically married men with a family, living in a cottage within the parish. They were hired for short-term work, ranging from a single day's labour to fairly steady positions. There were advantages and disadvantages of both systems. Perks for a day labourer often included the ability to draw extra income from the parish commons.
In addition to the expected prominence in my tree of men who worked the land, I found a few with specific trades — a surprise to me. John and Charles Radwell (Rodwell), father and son (5x & 4x) were the only weavers in East Claydon. They may have lived in one or more weavers' cottages, with a well-lit loom shop on the ground floor and sleeping room above. The power loom had been invented in 1785, so this really was the end of an era for hand weavers.
Thomas Philbey (6x) came from Aston Clinton, but he was probably too old to be counted in the p.c., or already deceased. However, the five Philbeys in the village were all tailors, as were four Philbeys in nearby villages. The Philbeys were clearly a tailoring family, and my ancestor Thomas was probably a tailor too.
I was also surprised to find that a couple of my ancestors may have been farmers, not only farm employees. Of course, the term 'farmer' could span a wide range in scale and status.
Health
My direct ancestors did not have any health issues recorded, but my 7x great uncle John Underwood, a farmer in Whaddon, was said to be 'Deformed'. From other sources, I believe John remained a bachelor, and he left his possessions and money to nieces and nephews. Fourteen men in the p.c. were 'deformed', 'deformed in body', or 'rather deformed'. However, John was a farmer, so presumably able to do manual work. Indeed, John was also approximately 65 years old – above the age limit for the p.c., but was considered eligible for inclusion – so perhaps was in general fit for his age? What kind of deformity did he have? Was John's physical appearance the reason for his not marrying? Having done some initial research in the newspaper archives on meanings of 'deformed' in this period, I don't yet have a theory, but I would certainly like to explore this fascinating topic further!
Potential ancestors
One of the most valuable aspects of the p.c. is that it has helped me to find possible ancestors where I had reached a dead end with the online records available to me.
Some of my ancestors were children in 1798, so do not show up in the p.c., but possible candidates for their fathers are listed in or near the place they were born. William Woodroffe (4x), was born in Marsworth before 1795 but I have not yet found a baptism for him. He was probably too young to appear on the p.c. himself. However, there was one candidate for a father in Marsworth in 1798: Joseph Woodderowffe (because one 'o', one 'd' and one 'f' is never enough (enoowffe?)!) — a farmer with two horses and one cart.
William Goodchild, a sawyer in Monks Risborough, was a likely father of William Goodchild (4x), born in the same village, who grew up to be a carpenter. John Paine Snr and Jnr, farmers in St Leonards, were likely to be the grandfather and father of William Payne (4x), born 3 miles away in Aston Clinton.
I knew from censuses that Olliff Foster (4x) was born in Weston Turville in 1790. There were no Fosters in that village (though a Folster is a possible candidate), but an 'Off Foster', too old to be listed as a potential posse member, owned horses and carts in another village 7 miles away. A search in Ancestry showed that he was also an 'Olliffe', and so this points me to a possible ancestor and a place to search for the link between two Olliffs.
A trip to Buckinghamshire Archives will be needed to look for further evidence for these relationships.
Disproving relationships
As well as helping me find some potential new ancestors, the p.c. has also helped to question or rule out some relationships I had previously considered possible.
For example, when looking for the baptism of Ann Verney (5x), who married in Wendover in 1798, I found just one that fitted — Ann Varney bp. 1777 in Berkhamstead, 17 miles away. I had logged it as a 'maybe', even though my ancestors rarely moved beyond five miles in this period. However, the p.c. showed that a Thomas Verney was living in Great Missenden, just five miles away from Wendover — a much more likely candidate to be her father, even in the absence of a digitised baptism record.
One significant disappointment was the discovery of the true origins of my 5x great grandmother, Martha Dean. Martha was the wife of Joseph Munday Snr, the labourer mentioned above. As with Ann Verney, I had only found one viable baptism for her online, to a Daniel Dean of Hambleden, 14 miles away; I had made a note of that possibility and not yet explored the Dean line any further.
I knew that Daniel had died in 1769 and would not be in the p.c. However, looking at Hambleden, I was surprised to see that several Deans were farmers there. In fact, five Deans in Hambleden were registered in the 1784 poll for the Knights of the Shire. I was not aware of any of my ancestors being sufficiently affluent to have been able to vote in that election. I was excited to find wealthier ancestors with the prospect of more genealogical records, and I started to delve deeper.
I established that some of the Deans listed in the p.c. were sons of Daniel. I then found Daniel's will. He was a yeoman, and left large sums of money to many family members, including £400 to his youngest daughter Martha, with another £400 to come when she either turned 21 or married, whichever happened first. £800 in 1798 is worth more than £35,000 today! And yet, if this was my ancestor Martha, she married a labourer, and her sons were also labourers. I briefly entertained the romantic notion that since Martha had married below her station, it must have been a love match. But then, what had happened to the money? Something didn't seem right. I next reviewed the will of one of Daniel's sons, Abraham, who died later in 1798. This will showed that his now-married sister Martha had the surname Fastnidge, not Munday. Sadly, this was clearly not my family after all. So who was Martha's father? I found several Deans living within five miles of Wendover who are possible candidates — a farmer, and four labourers. A labourer is much more likely.
It's a very good reminder that additional sources are usually needed to prove or disprove a connection.
Surnames
It's been really interesting to see where my ancestral surnames showed up throughout the county in 1798. Some were well distributed, while others only appeared in a single village or very small area. In some cases, a surname location provided a clue as to where my ancestors might have come from. For example, I could not find my Mackerneys ancestor in Buckingham, a possible place of origin, but found two 'Mackerness' entries elsewhere, which I can now follow up on.
Surname variations have been cross-referenced in the index. Of course, the majority of these would simply have been the chosen spelling of the literate (or semi-literate) person who wrote them down. Inconsistencies even appear in the same village. My 5x and 6x great grandfathers Thomas Tamer and Thomas Tarmer were labourers in The Lee.
Thanks to the surname index and ability to quickly review names in nearby villages, I've identified possible ancestors with variant spellings. For example, I was unable to find John Wilden (6x) in Great Horwood, where his daughter was baptised, but found John Wilding in a neighbouring village. Mary Langstone was born in Wendover, and a Thomas Lankstone is recorded there. I don't yet know the name of the parents of Eliza Plaster (4x), and the only other Plasters in the p.c. lived far from her home village, The Lee. But near to The Lee, there were two Plaisteds, one of whom was lame, and the other the owner of 3 horses and a cart. Was one of these Eliza's father?
Missing!
However, a few ancestors proved elusive. My 5x, Robert Dewet, b. c1765, married in Whaddon in 1789 and baptised his son, my 4x, in 1794. Yet there's no sign of him in the county, or of his 4 older brothers. Only one man with a surname variant appears, 18 miles from Whaddon. Where were the Dewets? Could they have been in the military already, and hence exempt from the p.c. register? Or, might they have been quakers? Whaddon wasn't far away from a quaker meeting house at Hogsty End (now known as Woburn Sands); there were certainly quakers in that part of the county.
Likewise, my 6x, William Maultby, married in Wingrave in 1783 and his son, my 5x, was probably born there in the same year. Yet there are no Maultbys or Maltbys in the entire county. William had property just over the border in Herts when he died in 1832. Was he counted there?
Found!
Nevertheless, in many cases, an ancestor I knew to be alive in 1798 was registered right where I expected him to be. I knew that my 5x, Richard Smith, was baptised in Monks Risborough in 1756, and buried there in 1832. His son, my 4x, also Richard Smith, was born in the same village in 1779 and would have been about 18 years old in 1798. In the p.c., two Richard Smiths were listed as labourers at Monks Risborough. These working class men with common names who would rarely appear in any records of the period were suddenly more real and three-dimensional — a father and son working, perhaps side by side, in the same village where my parents were married 175 years later.
Please, sir, I want some more.
Much as the posse comitatus is really a bonus resource, and I am extremely lucky to have so many ancestors recorded in it, it makes me greedy for even more information. The women, largely invisible in this record, were in fact right there with their menfolk. Censuses from 1841 onwards showed that many of my female Bucks ancestors were lace makers and straw plaiters, and I'm sure that in 1798, many of my woman ancestors would have supplemented their family's income with the same skills. I wonder which of my older ancestors were still alive, and how they were cared for? How were the men listed related to each other? How old were they? What deformity afflicted John Underwood? Above all, I wish it were possible to know for sure that the names recorded are my own flesh and blood. But still, how lucky I am to have this colourful window into the past.
Very … Aylesbury!
After looking for nearly 40 surnames in the posse comitatus, I have a much clearer picture of my Buckinghamshire ancestry at the turn of the 19th century. Not only were most of my ancestors living in Bucks, most of those were also concentrated in one area in the centre of the county — Aylesbury Hundred (highlighted yellow below). In fact, almost all of them lived within a 5-mile radius of Wendover. And it's probable that most of their forebears (and mine) had lived in this part of the Chilterns for hundreds of years.
Although most of my Bucks ancestors 222 years ago were labourers who left very few traces of their lives, the posse comitatus shows them as integral members of a local community and as men who were able to serve their county. For me, it's really helped put them on the map.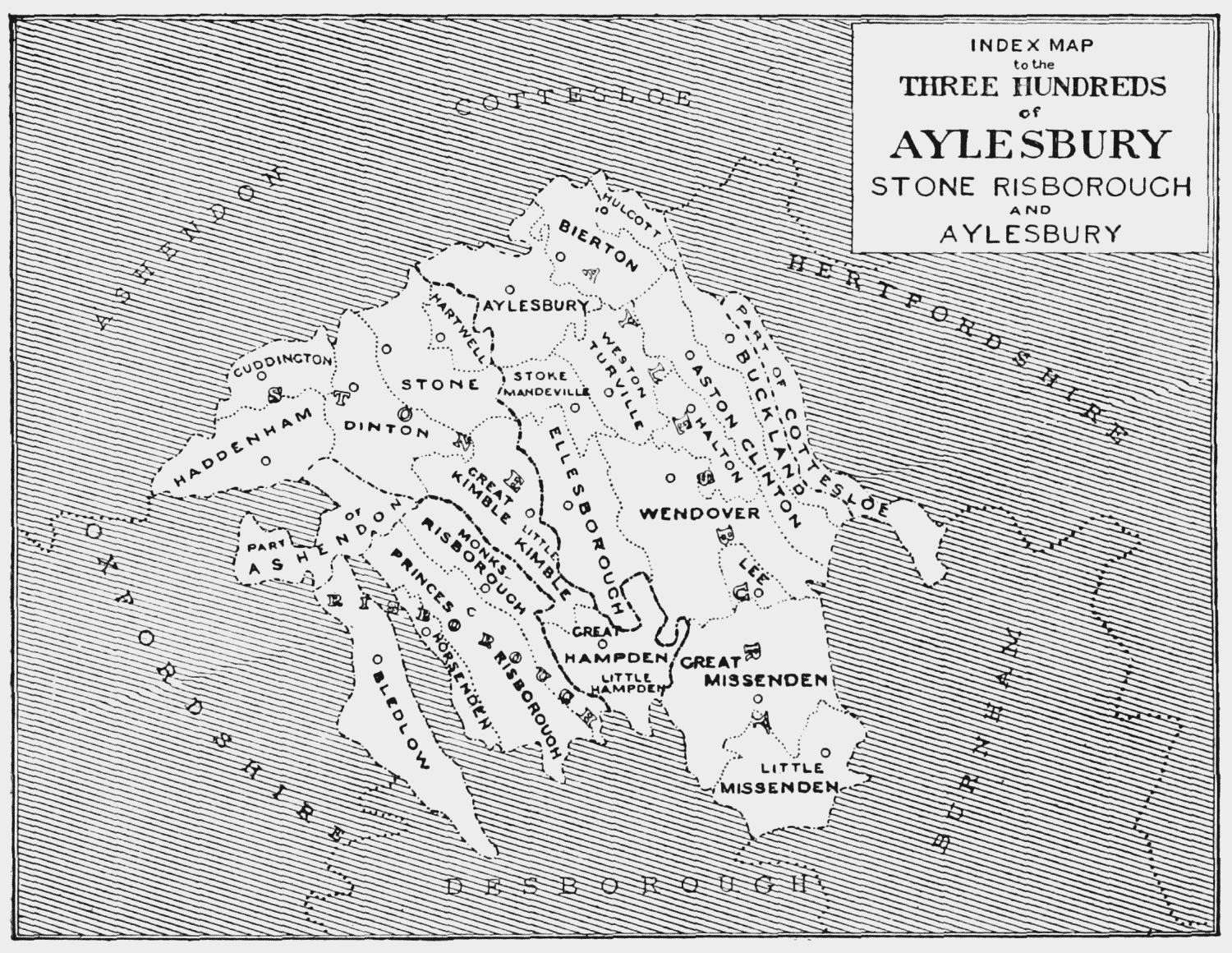 Appendix: My Bucks Names in 1798 (& definite or most likely places of residence)
CHAPMAN – Wendover, Ellesborough
CLARK – Waddesdon
CROCKETT – Monks Risborough
CROFT – ?
CROOK – Waddesdon
DARVILL/DARVIL – Monks Risborough, Lee, Wendover
DEAN – Great Missenden, Princes Risborough
DEWETT – ?
DYER – Aston Clinton
EAST – ?
FOSTER – Weston Turville, Whitchurch
GOODCHILD – Monks Risborough, Princes Risborough
HOMAN – Waddesdon
HILL – Aylesbury
JAMES – Little Missenden
LANGSTONE/LANKSTONE – Wendover
MACKERNESS/MACKERNEYS – Whaddon
MAULTBY – ?
MEERS – Waddesdon
MESSER – ?
MUNDAY – Wendover
OSBORN – St Leonard's
PAYNE/PAINE – St Leonard's
PEARCE – The Lee, Great Missenden
PHILBEY/PHILBY – Aston Clinton, Weston Turville
PLAISTED/PLASTER – St Leonard's
PRIEST – Little Missenden
RADWELL/RODWELL – East Claydon
SHARP – The Lee
SMITH – Monks Risborough, Stoke Mandeville
TAMER/TARMER (TALMER) – The Lee
UNDERWOOD – Whaddon
VERNEY/VARNEY – Great Missenden
WELLS – Stoke Mandeville?
WOODRUFF/WOODDEROWFFE – Marsworth
WYATT/WEYATT – Ellesborough, Monks Risborough
WILDING/WILDEN – Calverton